This wonderful story was wrote by the amazing two entrepreneurs: Anca Horvath (Romania) and Jérémie Pierre Gay (Denmark). We present it to you with no later edits :), and we are happy that we could contribute to this exchange and support Anca in her endeavour.

Anca Horvath (Cluj, Romania) – new entrepreneur in Erasmus for Young Entrepreneurs Programme
Company name: Genotype
Anca is an architect interested in developing computational designs that can change the world. She recently (2015) started Genotype, a company based in Cluj, the "Silicon Valley" of Romania, designing digital tools for dynamic 3D geometric models – the ones that users can play with and modify between certain constraints.

Jérémie Pierre Gay (Aalborg,  Denmark) – host entrepreneur in Erasmus for Young Entrepreneurs Programme
Company name: Create It Real
Jérémie is the CEO of a company designing 3D printers in Aalborg, the Old Danish "Silicon Valley". The company is made of international experts in 3D printing technologies, electronics, 3D graphics and mechanics. Create It Real works within the research and development equipment and services field.
What happened up North, at the castle:
Main objectives of the exchange for Anca was to get acquainted to the challenges and realities of working in an international market as a research practice, to understand how to manage R&D as a business, to exchange ideas and trends. Jérémie's expectation was to benefit from Anca's skills through the projects they would develop together and to gain insight on digital manufacturing from their clients (designers, sculptors and architects).
The larger vision for both companies was helping people become more creative. And also being at the forefront of the mass customization the fourth industrial revolution will bring (we know, too many fancy words, but it's just for this one sentence). Genotype wants to provide digital tools that allow experimenting with geometry, while Create It Real designs machines that allow 3D printing of geometries.
With a shared goal, the relationship started naturally.
Jérémie was looking to bridge the gap between the machines they were designing and the designers who use them, but also to make a platform where dynamic 3D models could be shared and monetized before being 3D printed. Anca was looking for a way to transfer digital designs into physical products in addition to developing entrepreneurial skills and learning from a more experienced CEO.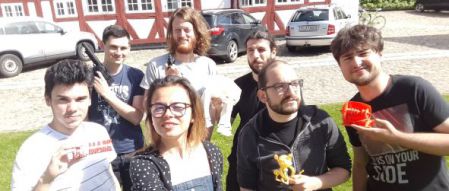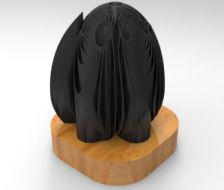 The results:
Anca spent six months – January-July 2017 – working with Jérémie, witnessing the environment of a 3D printing office, in a team that brings together international experts . They started out by optimizing the way interior structure of 3D geometries is generated in Create It Real's software. They found that soap bubbles take shapes which provide a minimal use of material relative to strength – so they implemented that.
Next, they started working on making dynamic 3d designs for various educational projects Create It Real was involved in – from a ramp, for young children to experiment with before printing, to a phone case application, and shoe insoles.
In between, they designed various trophies for competitions that Create It Real was sponsoring. Jérémie shared his knowledge on writing EU research projects and applying for funding. They met investors and attended all sorts of startup events. Some of these events were hosted at the castle were Create It Real shared offices with dozens of other startups as part of StartupWorks, an NGO that brings together scalable tech companies in the Aalborg's 1500 former Northern Jutland's king residence .
Short impressions or conclusions:
Anca:
"What most surprised me was the flat hierarchy in Create It Real, how good everyone on the team was, and how everyone's skills, although varied, fit together. I felt welcome from the first Star Wars conversation (which happened an hour upon arrival!) in this international melting pot."
Jérémie:
"The only problem we had was that we kept coming up with new ideas. Hopefully, we will find ways to implement them through future collaborations."